After students complete their programs at FCTC, they immediately contribute to the health and vitality of our community's workforce. Learn more about what graduates are doing today.
Calling all Alumni!
Tell us how you're using your FCTC education. Share your story with us and please also attach a high resolution image.
Graduating Class of January 2020
Congratulations graduates! View your photo gallery and video here.
Graduating Class of May 2018
View a photo gallery from the graduation ceremony.
Alumni Spotlights
Rosalee Perez, Practical Nursing Class of 2019 at working with Symphony of St. Augustine Memory        Care Assisting Living
Jordan O'Neal, Welding Class of 2016 working at Teco People's Gas
Caitlin and Garrison Wallace, Paramedics Class of 2017
Rebekah Collis, Practical Nursing Class of 2016 employed at Vicar's Landing
Marc Sokolay, Automotive Service Tech Class of 2016 works at Fields Cadillac St. Augustine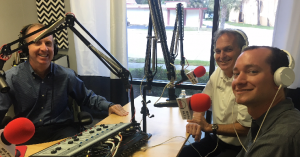 Marc (R) with Field's Service Manager Frank Harrington (C) and Kevin Geddings (L) of WSOS Radio